Take Your Precious Feline for a Cat Wellness Exam in Fort Myers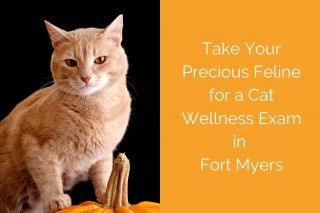 For cat owners, almost nothing is more important than the health of their feline family members. And since the AVMA has declared October to be National Pet Wellness Month, there's no better time to talk about one of the best ways to keep your cat healthy: Scheduling a cat wellness exam in Fort Myers at Colonial Animal Hospital. 

What is a Cat Wellness Exam?
A cat wellness exam is a full physical examination, including labs, done regularly to assess and track the health, growth, and development of your cat. During the exam, the vet will check your cat's weight, alertness, and behavior, and closely examine the coat, eyes, and more for signs of disease, congenital or age-related problems, poor nutrition, or injuries. Our vet will also listen to your cat's heart and lungs and will generally do blood work, take stool and urine samples and possibly even order X-rays to get a full view of your cat's health.
Why Cats Need Wellness Exams
There are many health conditions that give little outward sign until they become serious, and unfortunately, cats are likely to hide discomfort or pain from their owners. Likewise, exams give your vet a chance to spot issues like obesity or poor nutrition that can lead to health problems and counsel you on the best corrective action. They also provide an opportunity for us to detect the early stages of diseases that can be treated before they cause your cat needless suffering. No matter how well you care for your cat, there is simply no substitute for an exam by a licensed veterinarian.
Make an Appointment for a Cat Wellness Exam in Fort Myers
We have the tools and knowledge to keep your feline friend healthy and happy. If you haven't brought your furry family member in for a cat wellness exam in Fort Myers lately, give us a call to schedule an appointment. 
By accepting you will be accessing a service provided by a third-party external to https://colonialblvdanimalhospital.com/